Candace Moody is a writer and public relations professional based in Jacksonville, Florida. She wrote The Careerist, a column on careers and employment for The Jacksonville Business Journal  for several years and is frequently interviewed by the media on employment issues. Her writing has also appeared in the (Jacksonville) Florida Times-Union, the Atlanta Journal-Constitution, Enterprising Women Magazine, Costco Connection, Jacksonville Magazine, and 904 Magazine, as well as in several national publications and websites.
Candace has over 15 years of public relations, media relations, and corporate communications experience. She has led teams, met budgets and managed projects. She is a versatile writer and business professional who also has taught undergraduate management courses at the university level. Her course helps business school students master essential interpersonal communication, writing, and public speaking skills.
Her weekly blog, named Your Work Your Way, provides career and employment advice for job seekers at every stage of their careers. Candace is a contributing Thought Leader for the Blognotions Career Blog and is featured blogger for Betterfly.com, Ivyexec.com, and The Eve Project. Your Work Your Way has been named one of the "100 best career resources for graduate students and Ph.Ds" by Online Ph.D. Program.org and one of the 100 best career and personal development blogs by 1 Degree Hire.com.
Candace's Expertise:
Engaging articles of any length to build quality relationships with the people who matter most to your business.
Blog posts – specializing in coaching, tips, and "how to" posts.
Clear and compelling web and marketing copywriting and editing to build brand awareness and engage your target audiences.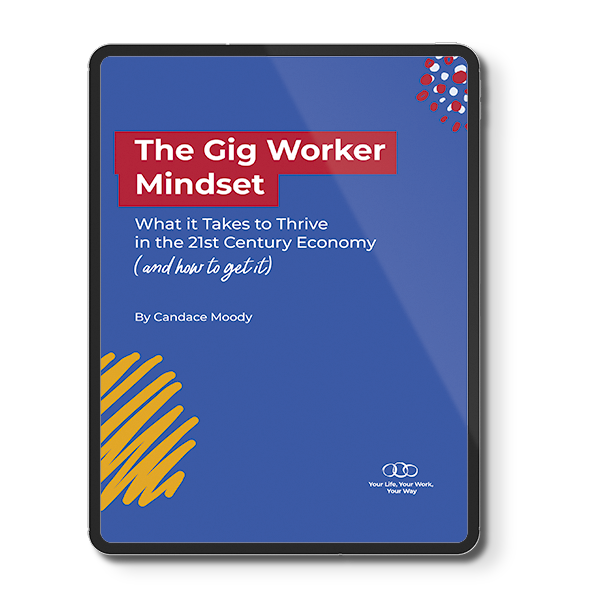 Get the Gig Worker Mindset
I've packaged a career-worth of information into a bite-sized book to help you start with success.
Let's Start a Conversation